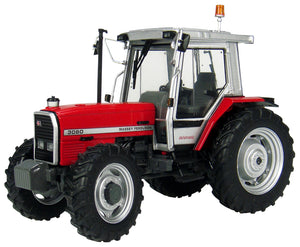 Massey Ferguson 3080 - X993040292000
SKU:X993040292000
Massey Ferguson 3080 - X993040292000
Re-edition: The Massey Ferguson 3080, of which more than 11,000 tractors were produced between 1986 and 1992, was the first "smart" tractor to feature on-board electronics with Autotronic and Datatronic systems.
The Datatronic version shown here is equipped with four-wheel ­drive, complete with finely reproduced rims, wheels, front axle and drive shaft. The steering is functional, as is the three-point linkage.
The perforated steps are finely engraved, and inside the cab you can see all the levers, dials, pedals and the MF logo on the steering wheel.
The rails, mirror supports and additional lights are painted. A very nice piece to add to your collection.
---
We Also Recommend