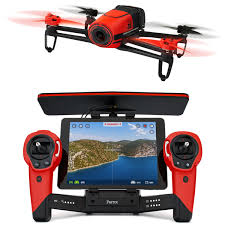 PARROT Bebop Drone + Sky Controller
SKU:x991800013000
Get bird's eye shots with the Parrot Bebop Drone – it's equipped with a 14 megapixel camera with fisheye lens and takes stunningly good quality 180° photos.  The device also features fully digital image stabilisation technology for crisp, clear pictures, and you can also film images in flight whatever the quadricopter's inherent movements are.   
The Drone is resistant to dirt and dust.  
Skycontroller's double Wi-fi connection is optimised for an impeccable connection and reduced waiting time, it's also much more secure and suitable for long distance flights.  You'll enjoy the benefits of a reliable Wi-Fi connection that's been specially designed for the Bepop so that you can make use of short or long-distance WiFi connections that really enhance the device's interoperability with tablets and smartphones. This means that the Bepop Drone's range extends to 2km !  The GPS position data is transmitted to the user in real time – very useful for very accurate piloting ! 
This unprecedented level and quality of data is linked to the Bepop Drone's high quality image by way of its 3-axes stabilisation system. Piloting the Bebop Drone is easy thanks to the relevant information being transmitted straight to the user, as well as sound alerts. This includes the 'Where is my Bepop Drone' function, which tells you how far away and how high the drone is in relation to the pilot.    Real-time, first-person view of your flight Free to download on compatible Android and iOS smartphones and tablets, the Freeflight 3 app lets you climb aboard your drone virtually to see the flight through the eye of the on-board camera. Record Full HD video and wide-angle photos with the onboard camera The 14.0MP camera can record at 30 fps and has 180° range of independent motion. Digital stabilization helps keep shots steady. Simple flight control from your compatible smartphone or tablet The Freeflight app also puts you in the cockpit, with display functions like auto return home, takeoff and land, directional and camera controls — even a button for flips. Save and share flight footage Store your flight photos, video and data, and instantly upload them to social media or cloud storage. Take virtual training rides before you fly The Freeflight app's Pilot Academy tool lets you get behind the controls without fear of damaging your drone. Durable materials and safety features protect against damage The lightweight ABS plastic frame is strong and resilient. The propellers stop automatically during a collision to minimize damage to the drone and its surroundings. Before takeoff, update all software and firmware, and read the instructions thoroughly. Available to Match your Massey in Red Alternitive colours Blue & Yellow
---
We Also Recommend